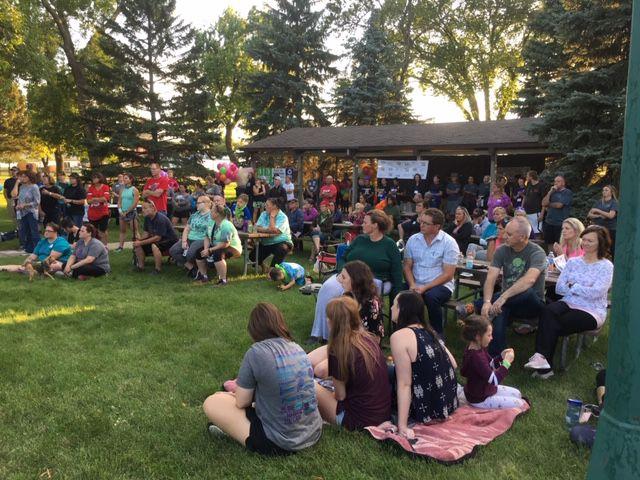 It was a fun event with a serious message last night at Bramble Park Zoo. 
Over 200 people turned out to honor the memory of friends, family members and loved ones whose lives were taken too soon by suicide.  Glacial Lakes SAFE the acronym for Suicide Awareness for Everyone hosted their 5th annual 5k Walk and Run.  Max Sears is 9 years old and in the fourth grade.  He was one of the 1st finishers in the 5K. He said he had a great time and it was all for Jordan. 
I asked Max now that he was finished with the 5K run, what he was looking forward to doing. 
September is Suicide Awareness month and Stephanie Traversie is one of the event organizers.  She said that she recognized that Watertown didn't have an event like this so she and a few others came together and created Glacial Lakes Safe.  Like many of the participants Stephanie suffered through her own loss, which she says gives her the drive to help others.   
Traversie says that the community coming together at an event like this sends a strong message. 
Kelly Rumpza is another organizer of the event.  Rumpza echoes the message that help is available when times get tough.  
Shannon Britt participated in the 5K run.  She said it wasn't an easy thing to do physically but she does it every year with the hopes of breaking down the stigma associated with those who chose to get help.  Fourteen years ago, Britt lost her mom to suicide. It was an event she says, that changed her life forever. 
Britt is now on a quest to help others 
Wendy Olson the project success coordinator at the Watertown School District paid tribute to Mariana Smith, a 15 year old Watertown High School student who took her own life earlier of this year.     
If you are struggling and need someone to talk too you can reach out to the Human Service Agency on their 24 hour crisis call line, that number is 605-886-0123 or the National Suicide Prevention lifeline at 1-800-273-TALK.  Specifically for School aged students the helpline has established a text line which is  available by texting 898-211.