KXLG News just left the scene of 2316 Grant Dr. in Watertown, where a garage had caught fire. Watertown Fire Rescue was dispatched to the residence around 7:30 pm tonight (8/1/2022). Heavy smoke and some visible flames were coming from the garage when crews arrived.
A neighbor told KXLG News the resident was grilling outside when they heard a thunderous explosion, "I thought somebody ran into the house," said the neighbor.
In this preliminary report, it would appear that is how the fire started.
WFR sprayed down the fire and used a saw to cut into the unopened garage door. They continued to check for hot spots, and you would see them spray out some flames every so often. There was smoke inside the home, and some crew went on the roof and used an ax and saw to cut openings.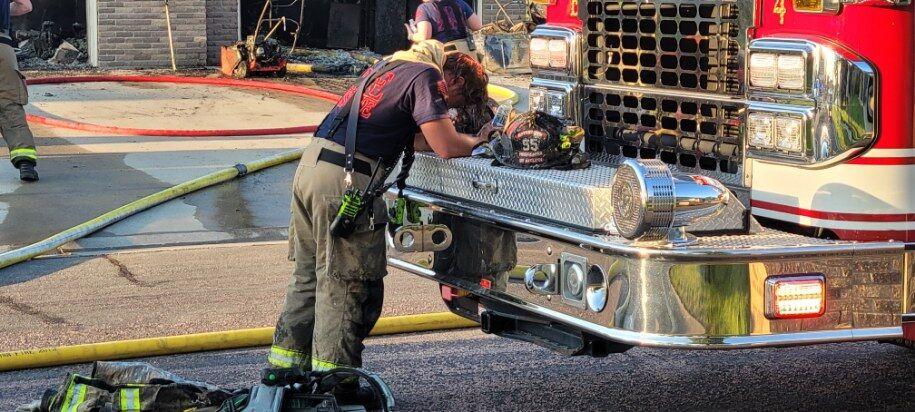 The display of instinctive actions and the entire crew moving as if it was some choreographed dance while fighting something as extremely dangerous as a fire. Plus, multiple propane tanks were still in the garage, about to explode at any second, and they did; no one was injured, but this was quite impressive to witness in motion.
No one was injured in the fire.
WFR was still on scene, and when we receive a report, KXLG New will update the story. 
Below is the report from the WFR.
On 08/01/2022, at approximately 7:30 pm, Watertown Fire Rescue was dispatched to 2316 Grant Drive for a garage fire.  Watertown Fire Rescue responded with 1-Command Vehicle, 1- ALS Ambulance, and 2-Engines.  While responding, units were able to see heavy smoke in the area.  Upon arrival, crews found a 3-stall attached garage with heavy smoke and fire.  Engine 4 crews quickly pulled a 2 1/2" hose to knock down the fire.  Crews were also assigned to perform a house search to ensure there was no fire extension into the home.  The main body of the fire was knocked down rather quickly, but crews had to perform an extensive overhaul to check for hotspots due to heavy smoke in the attic.  Watertown Fire Rescue remained on the scene for approximately 3 hours.  The garage suffered severe fire damage, while the inside of the home suffered slight smoke damage.  No injuries were reported. The cause of the fire is under investigation.  Watertown Fire Rescue was assisted on the scene by the Watertown Police Department and Watertown Municipal Utilities.