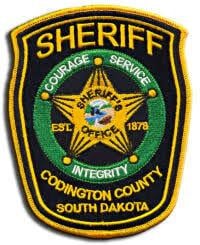 Police arrested a Sisseton Woman following a high speed chase on 1-29 North of Watertown Friday.
Codington County Sheriff Brad Howell said that 33 year old Kelsey Wanna was spotted by a Watertown Police officer on Friday in the Target Parking lot.  Police say the woman was wanted for questioning in connection with a theft that occurred just two days prior.
Wanna ended up fleeing from the Watertown Police officer who was on foot in her vehicle and the vehicle did not stop and a pursuit was initiated with speeds exceeding 100mph.  The vehicle was spotted by a Codington County Sheriff's deputy and eventually came to a stop north of Watertown at mile marker 195 on Interstate 29.
Wanna was taken into custody and charged with a list of charges including petty theft, aggravated assault on law enforcement, obstruction, aggravated eluding, speeding, reckless driving, driving with a suspended license, possession of a controlled substance, possession of drug paraphernalia and driving under the influence 1st offense.